Onderhoud
Onderhoud wordt vaak onderschat. Zonde! Met de juiste behandeling en tijdig onderhoud voorkom je problemen. Verwarmingsbuizen en de bestaande verflaag krijgen veel te verduren door invloeden van vocht, residuen en mechanische belasting. Regelmatig onderhoud zorgt dat de installatie langer mee gaat, een goed resultaat blijft geven en is onderaan de streep financieel aantrekkelijk.
De functie van het schilderen van de verwarmingsbuizen is meerledig:
Bescherming tegen roestvorming
Voor meer licht- en warmereflectie
Draagt bij aan een langere levensduur van de installatie
Schilderen is een vak. Wij werken dan ook met bekwame schilders, secuur en met goed materiaal. Hoe we te werk gaan? Dat lees je in onderstaande drie stappen.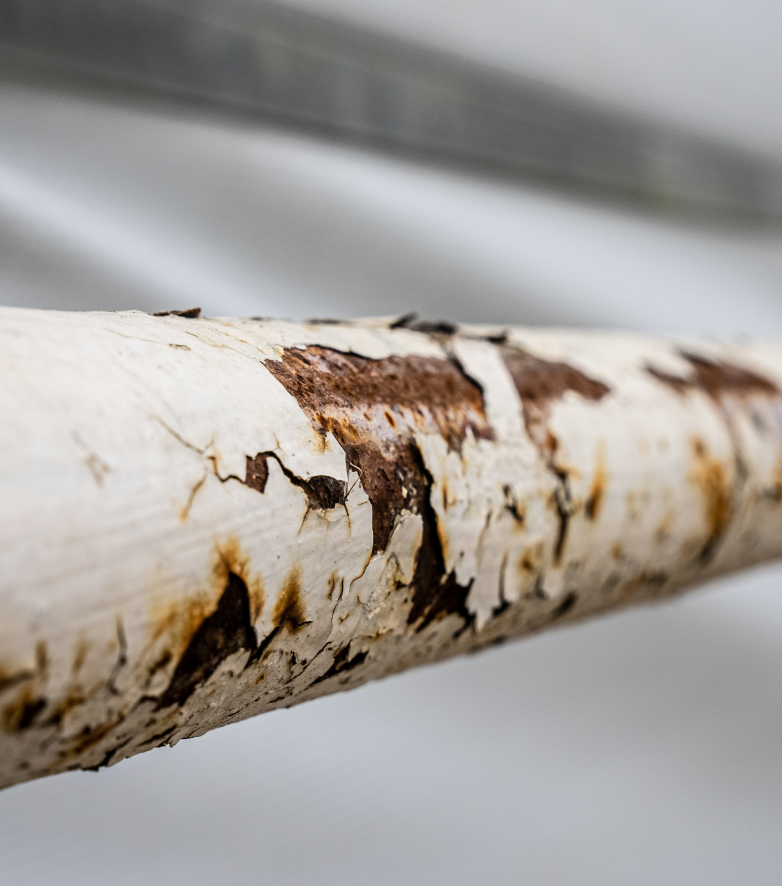 Pleeg onderhoud op tijd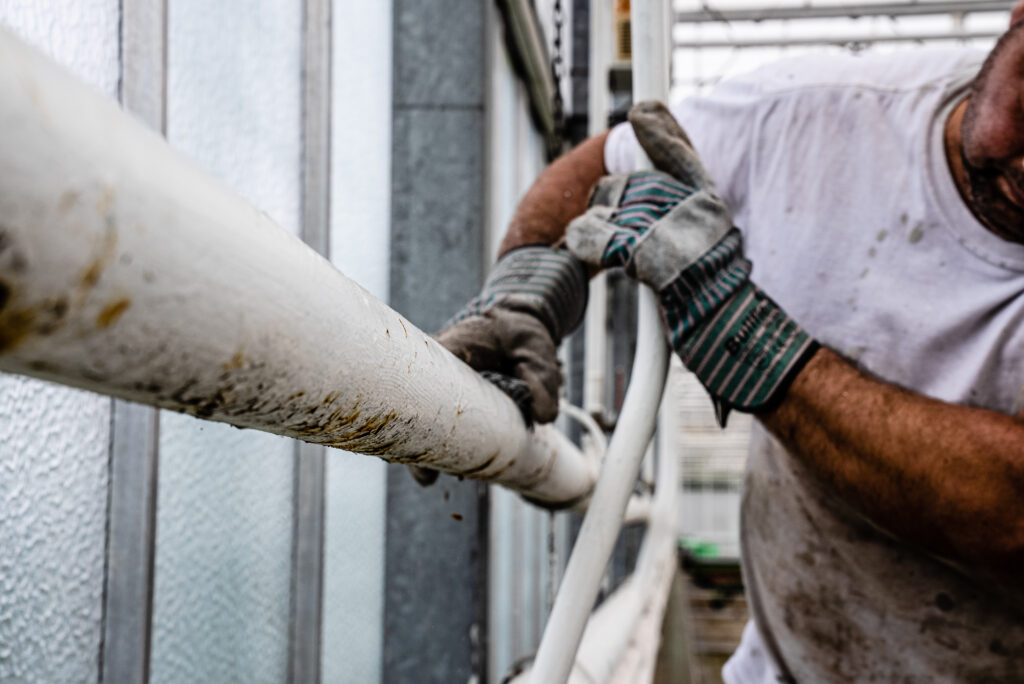 Wacht niet met onderhoud, tot de roest zichtbaar wordt. Onderhoud pleeg je vóórdat roestvorming optreedt. Roest kan zeer moeilijk worden gestopt.
Voordat we de nieuwe verflagen aanbrengen, behandelen we de bestaande buizen eerst met schuurgaas. Afhankelijk van de staat van de buis, kapselen we met één of twee nieuwe verflagen om doorroesten tegen te gaan.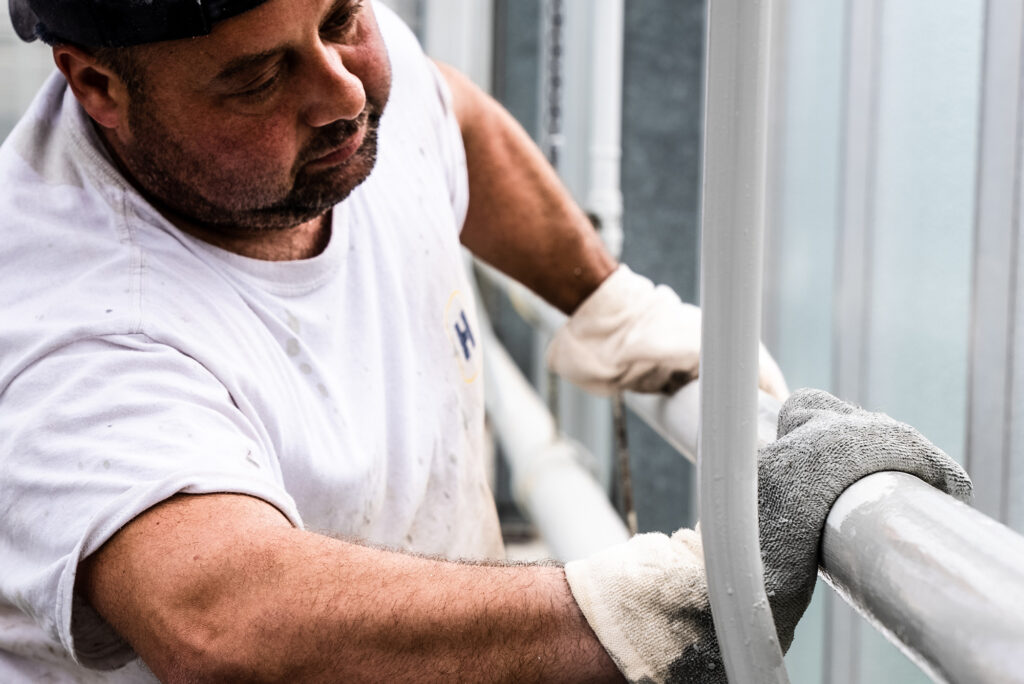 Na het schuren van de buizen wordt er een corrosiewerende primerverf aangebracht. Deze verf beschermd de buis niet alleen tegen corrosie, maar zorgt ook voor een goede hechting met de daarop volgende laag. De finishverf.
Dit proces kan niet geautomatiseerd worden omdat elk tuinbouwproject anders is: buizen variëren qua lengte of doorsnede en ieder ophangsysteem in de kas is anders.
3
Gespecialiseerde medewerkers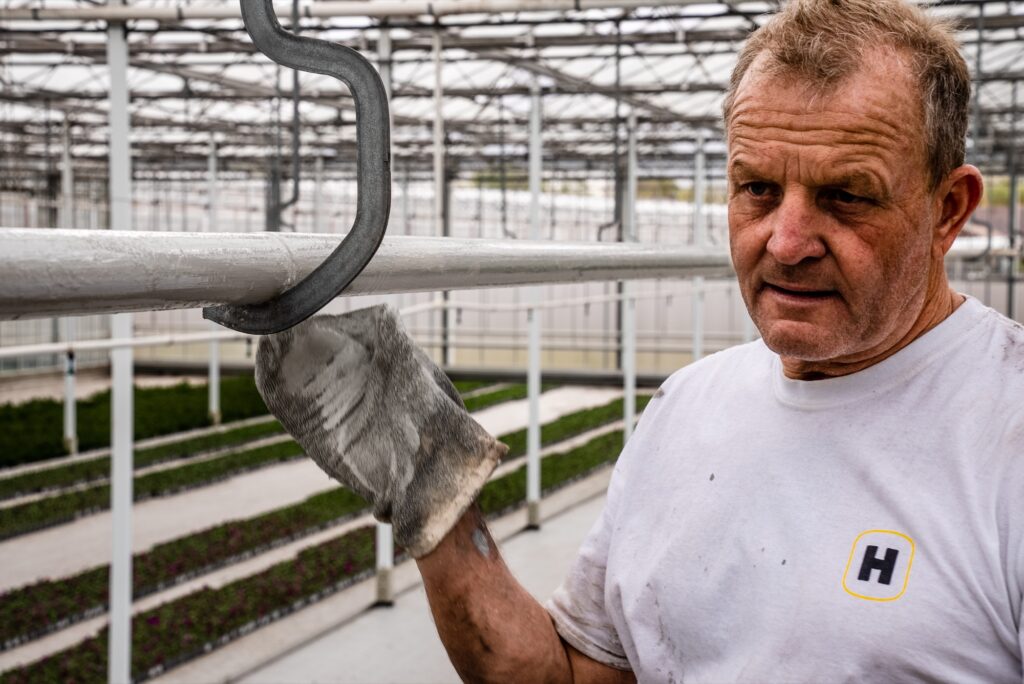 Schilderen is een vak. Onze gespecialiseerde medewerkers zorgen voor een juiste laagdikte op de buis en schilderen de buis met minimale verspilling van de verf.
De afwerking van de geverfde buis moet kwalitatief hoog zijn. Zonder knoeiwerk op materieel dat niet geverfd moet worden. We verven met de hand, met een zogenoemde verfwashand die al jaren zeer doeltreffend is.
meer DAN BUIZEN
Naast het spuiten en schilderen van verwarmingsbuizen voert Van der Horst
ook andere schilderprojecten uit. Denk hierbij aan het herstellen, spuiten of schilderen
van bedrijfsruimten, kasgoten, filterhuizen, fundatiepaaltjes, afvoerkolommen,
gevelwanden, beplatingen, draagbalken van dakbedekkingen et cetera!
Projecten in beeld
Rodon Rollf | Onderhoud kas
Trias westland | Aardwarmtebron
Voorkomen is nou eenmaal beter dan genezen. Pleeg
op tijd onderhoud!
Contact
Wil je meer weten of een vrijblijvende offerte opvragen?
Bekijk onze contactpagina voor contactinformatie.